Lies, Damned Lies And Statistics

Research: Lawyers Have A LOT To Answer For - Understanding Research Numbers #1
New research confirms what we already knew about lawyers. They are statistically implicated in a number of unfortunate events.
Disturbing Correlation Between Suicides By Hanging, Suffocation And Number of Lawyers In North Carolina
In new research released recently, it was found there was a correlation of .9937, a statistically significant finding, between suicides by hanging, suffocation and strangulation and the number of lawyers in North Carolina.
So, as the number of lawyers changes in NC, so do the number of suicides of this particular type.
Law associations are looking into this finding, which was based on statistics gathered over a period of ten years (1999-2009) from the CDC, and the ABA, to determine if lawyers are somehow implicated in suicides.
Shakespeareans follows are suggesting that the reason this correlation exists is because lawyers are actually a root cause of frustration, depression and ultimately, suicides.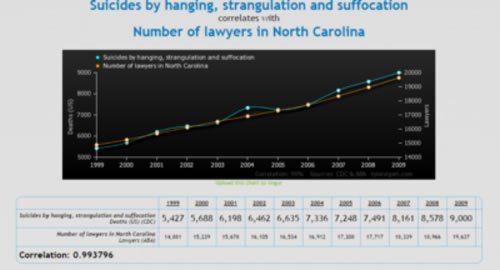 Relationship Between Number Of Lawyers In Georgia And Death By Entanglement In Bedsheets Found
In a related story, research has shown an exceedingly strong link between the number of lawyers in Georgia, and the number deaths in the USA from entanglement in bedsheets. What should be noted is the exceedingly strong correlation, .974 which, again is statistically significant, and therefore chance can be ruled out as an explanation.
So, number of lawyers in specific states seems to suggest a link between certain kinds of death, across more than just one state.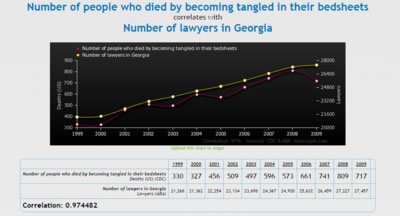 Nevada Lawyers Implicated In Number of People Who Died As A Result Of Tripping Over One's Own Feet
In yet another study, that looks at the number of deaths by tripping over one's own feet and the number of lawyers in Nevada, an equally strong relationship was found.
In this case, researchers look at ten years of data, covering ten years, again from 1999 to 2009, and found a correlation of 0.9207, again beyond the realm of chance (statistically significant).
A spokesperson for the Nevada Bar association stated:
"Yes, we are concerned that lawyers in our State may be responsible for increased in death by tripping. We've asked the attorney general to look into this to make sure that none of our lawyers are pushing people over to increase the number of personal liability law suits."
Conclusion: More Research On The Way
it's unclear why these relationships between number of lawyers in three states are so strongly correlated to these various kinds of deaths, but there are grass roots movements in the U.S. that are lobbying actively for the reduction of the number of lawyers, in order to reduce these horrible deaths in the future.
Do you have any ideas on why these correlations are occurring? Think about it for a moment, then click here to view some explanations...

Credits: Research number and graphics reprinted with permission from http://tylervigen.com/