The Work911 / Bacal & Associates Workplace Supersite - MAIN PAGE

Welcome To The Work911.com Supersite Main Page
These days, most websites don't require much of visitors, and lack the depth to help you learn, improve yourself, and function more effectively at home and at work. This site is a little different. It's HUGE. It's top quality content. And if you can't find the help you need here on topics like leadership, management, interpersonal communication, conflict, etc, you can use our custom designed search engines to find what you want elsewhere.
We're good with that, because our mission is to provide you with the best learning experience possible, whether online, from our books, our learning tools, and our services.
This site has been online and growing for more than ten years, which accounts for its size, depth and variety.
Click on the pictures/links below, or use the menus on the sides and top of the pages!
What's New
A few updates: In Dec, 2013 we launched a site dear to my hear: It Takes A Village To Teach A Child, with a focus on helping teachers, schools and school administrators work more effectively with parents and community members. Often parents are emotional about their children, as they should be, so we look at how schools can build bridges with parents.
In a similar vein, we set up an amazing database of techniques to use for defusing angry customers. We've taken a lot of the content from my books on the topic, and made them available free. Drop in, and pick up tricks, proven techniques and strategies to deal with difficult, frustrated, and frustrating customers and clients.
Browse Free Articles
Robert Bacal has published over 400 articles on
management, customer service, social media, communication
and much more.
We're proud to make them available to you FREE of charge, and best yet, our new reprint policy allows you to use them (some restrictions apply) with colleagues and staff.
Bacal's Books/Free Excerpts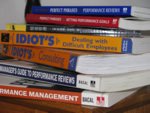 Robert Bacal's books have sold close to 400,000 copies worldwide, covering performance management, customer service, small business, consulting and dealing with difficult employees. You can continue your lifelong learning by browsing the free chapters made available online, and learn more why so many people have purchased "
Books By Bacal"
Building Better Relationships - Read Imperfect Phrases For Relationships FREE
Learn how to improve your relationships almost instantly, by changing WHAT you say to each other. Now available free of charge online. The research is clear. Couples that communicate more effectively stay together. People who say the wrong things to each other break up amidst a lot of pain and suffering. Now you can learn 101 things never to say to someone you care about, and what to say instead!
175 pages of pure free relationship and communication skill building. Click the picture or click here to go directly to your free online copy of Imperfect Phrases For Relationships.
Learning Tools For Busy People
It's a busy world, and most people have little time to read complete books to learn. Now, you can learn to manage more effectively, get along with others, communicate and deal more effectively with conflict "on the go", or if you prefer, on your computer. Our unique mini-guides give you the essence of a topic in something you can read and absorb in less than 30 minutes.
Now you can learn on your smartphone, Kindle, Nook, Ipad and other electronic devices.
Robert's
keynotes and speaking engagements are energetic, and combine learning with an upbeat, unique style.
As with his seminars, he custom builds presentations for each client, and believes in fair reasonable pricing, something that's often lost in the speaking field.
Our Libraries

Now it's called "curation", but we've been doing it for ten years - hand choosing the best online articles to include in our subject and topic libraries. Whether it's leadership, management, customer service, training topics, we've got them covered.
Save YOUR time by finding the best online material without wading through a lot of junk.
Training Seminars
We offer an extensive line of seminars, and conference and keynote speaking, all CUSTOM DESIGNED at no extra cost.
We are proud of our track record, innovativeness and abilty to offer learning and insights that impact the bottom line using fair, reasonable and negotiable pricing.
Community - Why Is Customer Service So Terrible.... ...And What To Do About It

Looking for answers about why customer service is still so terrible despite social media, and a lot of talk about improving it?
Join us at our LinkedIn community/discussion group, where you can interact, share ideas, and contribute to improving the level of customer service across all industries and niches. Moderated to keep spam and promotions out of your hair.
Community - Improving Performance Reviews, and Managing Performance

Whether you are an employee trying to cope with an upcoming
performance review, an HR professional looking to revamp your performance appraisal system, or a manager trying to figure out how to get the most from your employees and increase employee engagement
, you'll be welcome at our LinkedIn community set up for this topic. Join over 700 people looking for answers to the trials, problems and tribulations of working with damaged performance management systems.